So they, Primus, may be supposedly tired of their fans yelling "Primus sucks!", but the fans aren't — well the ones at the show Tue 5-Dec-2006 at San Jose Civic Auditorium weren't.
In fact, during several extended low-key "mumbling" jam sections, a few in the audience got way ticked off and were yelling more than "sucks" and demanding that they "play f**king primus music, you f**king pussies!!!".
I thought the show was great, and I had a blast introducing one of my sons to the fine art of survival and entertainment in the mosh pit. I returned to the IIW2006b conference the next day with a big grin and no visible bruises. John Kemp commented that "you like to live dangerously don't you?" in his inimitable British way.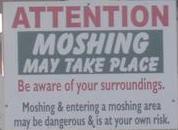 I really liked the opening act, Gogol Bordello — I'd not heard of them before. They put on a fairly wild show. Likely even more so if they were headlining. My comment after their set was "that was a very Primus opening act".
JeffH sez check 'em both out ifn ya get the chance.